Alphabetica - Abecedario grafico contemporaneo
Immagine: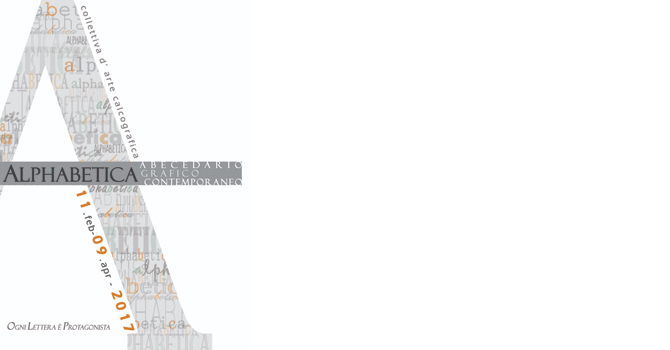 11/02 - 09/04/2017
Museo delle Mura
Aim of this exhibition is to complete Officine Incisorie's exhibition year. Officine Incisorie's Previous exhibitions were dedicated to books, literature and reading where the "Letter"  was celebrated both in its graphic definition and its communication intrinsic value.
Officine Incisorie based on this starting point to realize a modern spelling book enhanced in its various technical possibilities by intaglio art, thanks to artists' works. Each engraver made one or more engravings characterized by an inner initial letter of a word chosen by the artist and graphically represented as part of the initial itself. 
Information
Opening hours
Dall'11 febbraio al 9 aprile 2017
Dalle 9.00 alle 14.00 (ultimo ingresso ore 13.30)
Chiuso il lunedì
Information
060608 (tutti i giorni ore 09.00 - 19.00)
Promotori
Roma Capitale -  Assessorato alla Crescita culturale - Sovrintendenza Capitolina ai Beni Culturali
Servizi Museali
Zètema Progetto Cultura 
Media Partner
Il Messaggero
Con la collaborazione di:
MasterCard Priceless Rome  
Type
Exhibition|Applied Arts
Documents
Eventi correlati
Currently there are no ongoing activities.
There are no planned activities.
There are no archived activities.