Restoration
The most recent restoration and maintenance works on the S. Sebastiano Gate, took place in 1999 and were part of the general program of redevelopment of the city walls, carried out by the Municipality of Rome for the Grand Jubilee of 2000. The project involved work both on the outside of the monument, and inside, including in the exhibition rooms of the Museum of the Walls.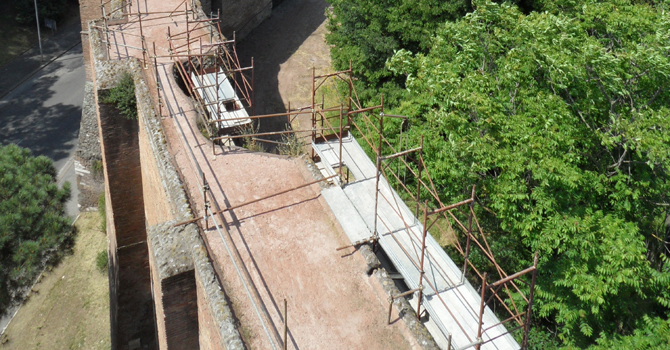 The real restoration of the external surfaces in clay-brick, tufo and marble was prededed, as always, by a thorough on that was infesting the walls, with specially chosen products, including biocides to eliminate alghae, moulds and microrganisms. Then the curtain wall was cleaned with water at low pressure, to remove blackening deposits and encrustations from the atmospheric pollution. The cleaning of the marble structure, however, required more careful work, with the installation of a water vapourizer, which was able to clean the clinging black crust, especially under the arches, while preserving the layers of ochre and oxalate patina recognised to part of the monument's life.
The restoration was particularly delicate in that it took place on a heterogeneously composed monument, both in terms of the variety of materials involved and the various times at which it was constructed. All the external areas of the wall were notably degraded, due to the degradation of the mortar and the erosion of the materials making up the internal conglomerate, a situation was had caused the separation and collapse of various fragments. The works focused on consolidating the structure including filling in the gaps and the along the crevices with hydraulic mortar and lime-based plaster mixed with inclusions of various sizes and colours, appropriate to the surrounding context. As regards the refilling of the gaps in the wall, according to the aim of safeguarding the existent materials as far as possible, it was decided to intervene only where it was necessary due to the depth and extent of the gap, and consequent stability problems. In relation to this last problem the revision work also provided both for the metal force (chains) located along the length of the previous restorations and all the crenellations which crown the terraces, the towers and the central body of the building, above the arch.
At the same time, the terrace of the west tower was also made safely accessible to the public: railings have been fitted according to the regulations and a metal and plexiglass cover, hermetically sealed to protect the exit, has been added, from which the ground is reached using a spiral staircase. The same works have been done in the other tower. Inside the Museum the window settings have been repleace, several windowsills, the services, the electricity plant and the paint on the walls of all the rooms.