A work by Huang Rui: Peking 2008: time, animals and history
Immagine: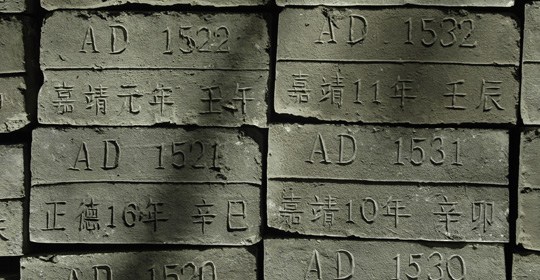 09/02 - 23/11/2008
Museo delle Mura
A work by Huang Rui: Peking 2008: time, animals and history is the name of the large installation conceived and created especially for the Museo delle Mura di Porta San Sebastiano by Huang Rui, one of China's leading contemporary artists who has a particular fascination for the capital's more sizeable constructions in brick, including, for example, the Roman walls.
These provided Huang Rui with the inspiration for a mammoth work that turns the humble brick, something that is in itself, simple and unassuming, into something that symbolizes a historic record that also reflects the never-ending circle of destruction and construction that characterizes modern metropolises.
Honouring the Olympic venue and year, Beijing 2008 has been created by laying out 2008 used bricks from Peking's old "hutong", buildings that are being demolished to make way for the urban modernization of the city currently underway. The bricks bear a historic significance linked to the oriental measurement of time compared to that used in the west: each one is inscribed with a year marking the passage of time in western culture – from 1 to 2008 as well as the same progression of years in the Chinese calendar and the names of the relative Imperial dynasties. Arranged in 38 groups of 60 years, the bricks are also engraved with the Chinese astrological symbols connected to each year, starting with 221 BC, the year of the Rat associated with the First Emperor of China, Qin Shi Huangdi. 2008 is another year of the Rat, the year 59 of the People's Republic of China, marking the beginning of yet another cycle.
Information
Opening hours
tuesday - sunday 9.00am - 2.00pm
The ticket office closes half an hour in advance.
Closed on monday and 1st May.
Information
060608 every day 9.00am - 10.30pm
Type
Exhibition|Contemporary art
Other information
Emmanuela Termine as co-ordinator. This exhibition is supported by Assessorato alle Politiche Culturali del Comune di Roma.
Organization
Galleria Sala 1
Sponsored by
BNL - Gruppo BNP PARIBAS, Banca di Roma - Unicredit Group, Monte dei Paschi di Siena -Gruppo MPS, Vodafone, Facoltà di Studi Orientali dell'Università Sapienza di Roma
With technical contributions from
La Repubblica, Sala 2 Architettura, Secar '95
Curator
Mary Angela Schroth con Adriana Forconi
Eventi correlati
Currently there are no ongoing activities.
There are no planned activities.
There are no archived activities.